GVFD Company 8

900 Highland Ave, Greensburg, PA 15601

(724) 834 – 3908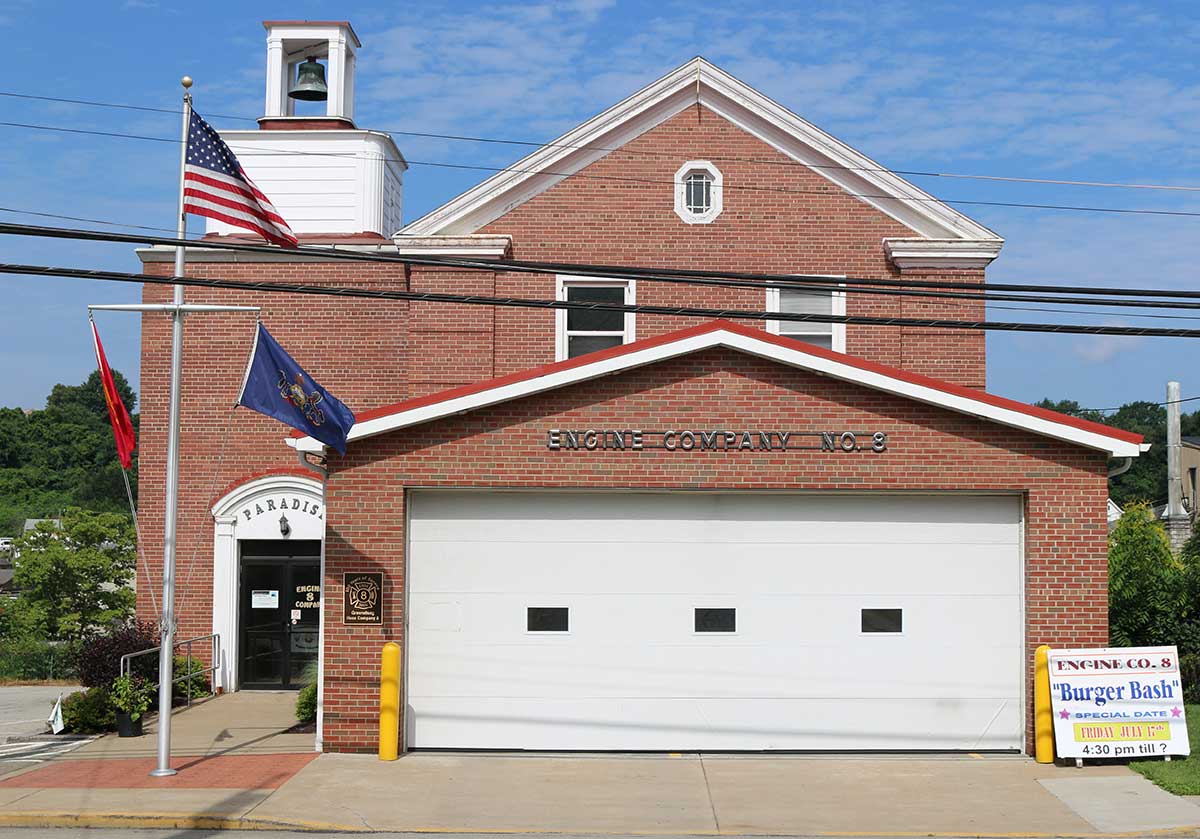 Company Officers
Captain – David Jackson
1st Lieutenant – Derek Manley
2nd Lieutenant – Rob Cameron
3rd Lieutenant – Roman Carloni
Sergeant – Michael Hartung
Sergeant – Christian Lake
President – John Hillwig
Secretary – Roman Carloni
Company Members

Ken Bacha*
Elysia Battistella
Lou Battistella*
David Burnfield
Robert Cameron
Colin Carloni
Roman Carloni
Nicholas Casper
Brian Conway
Darrian Conway
Patrick Dean
Charles DiCriscio*
Karl Eisaman
Danielle Grosser
Michael Hartung
Leslie Harvey*
Jeffrey Henry*
Jon Hillwig*
Scott Hillwig
Rick Hoyle*
Edwin Hudson*
Dale Hutchinson
David Jackson*
Richard Johnson*
Lawrence Kempert*
Matthew Kolbosky*
Christian Lake
Roman Lamberski
Jason Ludwig
Corey Manley
Derek Manley
Eric Manley*
Mahlon Manley*
Robert Manley*
George McFarland*
Mark Merriman*
Patsy Musa*
Zachary Nowakowski
Jeffrey Peterinelli*
Brent Randolph
Nicholas Reesey (420)
Gary Romagnoli
Randy Roman*
John Shuey*
Clyde Snyder*
Robert Thomas*
Trevor Turin
Jerry Vernail*
Austin Wentzell
* Indicates Life Member
History
They called it Paradise – a place of happiness – this was the community where most of the men who formed the nucleus of Greensburg Hose Company No. 8 resided. The date was January 23, 1906 when "Greensburg Hose Company No. 8" was named. In 1906, fire fighting equipment operated by the company started with a two wheel hose cart, 300 feet of two and one half inch hose, two nozzles, a plug wrench, crow bar and a fire axe. This cart was pulled by the members, but if a streetcar happened to be going in the direction of the fire, the cart was attached to it. The second piece of equipment was a chemical engine put in service on September 26, 1916. Horses were borrowed from residents to pull this engine. The third piece of equipment was a Peerless Touring car purchased from the superintendent of the Jamison mines. The truck was officially turned over at the September 15, 1921 meeting and the hose cart and chemical engine retired. The next truck was a 1926 Seagrave equipped with ladders and a hose bed. This was an exciting piece of equipment due to the mechanical brakes. It was always a question of where it was going to stop. This truck continued in use until 1949. In 1935, a Dodge bus chassis was purchased to be made into a salvage truck. In 1949 a Seagrave Quadriple Combination Pumper was put into service. This truck was to combine both the pumper and salvage into one vehicle. This truck was extremely heavy and overloaded so when Hose Company No. 1 received a new truck, their 1250-gallon American La France pumper came to No. 8 to replace the salvage. This vehicle was then replaced in 1981 by a GMC van. The years 1965 and 1978 saw new Seagrave 1000-gallon pumpers. In 2004, a new 1250-gallon Seagrave pumper was delivered to Hose Company No. 8. In 1983, a water salvage truck was placed into service. This truck, a 1976 Dodge van, was a carpet cleaning truck. The cleaning portion was removed leaving the pump. In 1987 it was replaced by GMC van. Hose Company No. 8 was without permanent quarters until 1908 when the borough purchased a building on Highland Avenue. Ground was broken in August 1930, and on February 9, 1931 Greensburg City Council formally turned the new hose house over to the company. The company moved into its new home on February 26, 1931. An addition was added in 1985 to house the water salvage. Currently, Hose Company No. 8 houses a 2004 Seagrave pumper, a 2012 custom Ford Salvage Vehicle, a 2006 custom Chevrolet utility vehicle, and a 2007 and 2010 water salvage trailers that were assembled by Pemberton's Professional Chemicals of Pittsburgh. Hose Company No.8 has always been one of the first to adapt to changes in methods and service to the community.
Apparatus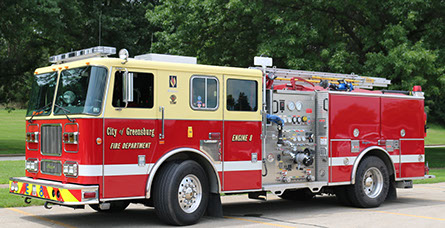 Engine 8
2004 Seagrave – S.O. 78B39, Model TB40DA, full-tilt Stainless Steel cab, Detroit Series 60 diesel engine, Allison 4000EVS automatic transmission, crew cab air conditioning, DOT and NFPA lighting are LED, Waterous CM, 1,250 GPM, 2-stage fire pump, 500 gallon booster tank, pre-piped TFT Cross-Fire deck gun, 8000 watt AMPS hydraulic auxiliary generator, Rudd automatic tire chains.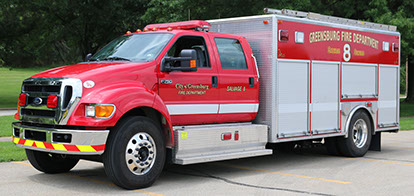 Salvage 8
2012 Ford chassis with a custom built Kenco box. The truck has seating capacity for 5 and has 9 walk around compartments. It contains a large assortment of salvage equipment including pumps, covers, lumber, and roofing materials. It carries several ladders, a 30 Kw generator, Wil-Burt light tower, and air and electric reels. It also carries several types of saws and hand tools.
Utility 8
2006 Chevrolet 3500 4 door chassis, seating capacity for 5, with a Knapheide work body. This vehicle is used as a support vehicle to transport personnel and equipment. This vehicle carries, hand tools, ems equipment, and an AED. Utility 8 is used to carry extra salvage equipment and haul the dogs for Bloodhound calls. It is also tows any of the Departments specialty trailers.
For ALL Emergencies Please Dial 911