GVFD Company 6

542 W Otterman St, Greensburg, PA 15601

(724) 834 – 3906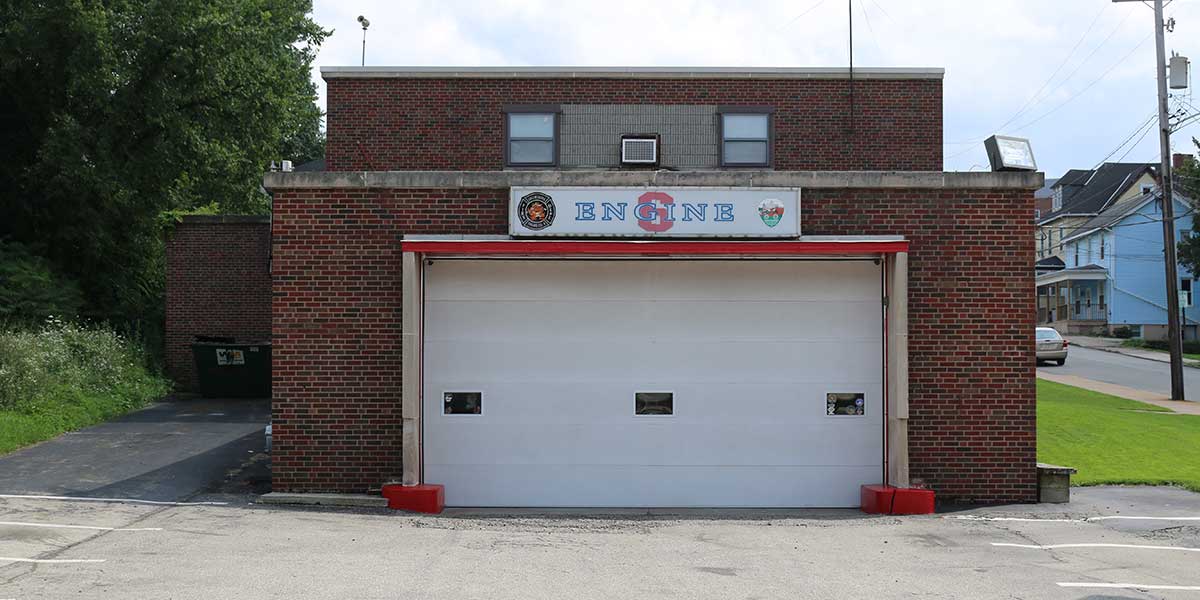 Company Officers
Captain – Robert Giles
1st Lieutenant – Mike Sheffler
2nd Lieutenant – Carolyn Campbell
President – Robert Giles
Secretary – Carolyn Campbell
Company Members

Dan Bell*
Jason Best
Noah Burda
Carolyn Campbell
Jerry Chellman*
Justin Chobirko
Pat Cox*
Jeremy Danko
Will Demorest
Doug Fait*
Jeff Fait*
Robert Giles
Shawn Heacox
Anthony Henry
Brody Irons
Tony Jioio*
Joey John
Ryan Kempert
Joe Kolbosky*
Rudy Kolbosky
John Laco*
Nathan Long
Bayleigh Meade
Aaron Marshall
John Matrunics
Evan Miles
Mason Miles
Sahara Miller
John Morris*
David Noonan
Vance Phillips
Al Rosatti*
Mike Rosensteel
Angelo Rosetti*
Galen Ross
Robin Ross*
Dorian Sabers
Mike Sheffler
Kristi Steele
Rick Steele
Keon Winters
Nathaniel Winters
Mike Wisneski*
* Indicates Life Member
History
Hose Company No. 6 began on July 20, 1896, when a group of men who resided in Ludwick Borough met to form a volunteer fire company to protect the lives and property of the citizens in their community. On October 19, 1897, Ludwick Hose Company No. 1 took delivery of two hose carts, one having five and one half foot bicycle wheels and the other, five-foot wooden wheels. The total cost for both was $753.07. On January 4,1906, The Ludwick Fire Company elected to become a part of the Greensburg Fire Department. That same year Ludwick Borough merged with the City of Greensburg. The company continued to respond to alarms with the hose carts until 1916, when the city purchased a four-cylinder Oldsmobile chemical truck. In 1924, the city purchased a new 750-gallon per minute Seagrave pumper to better meet the needs of the growing city. In 1954, Hose Company No. 6 borrowed funds from the Relief Association to purchase the house and lot at the corner of West Otterman and Depot Streets. The house was torn down, the well filled, and the land was given to the city to construct a new house. The new hose house was built and a new 1000-gallon per minute pumper, also a Seagrave of the open cab type, was purchased. In 1957, the Westmoreland County Civil Defense Agency Truck was stationed at No. 6 and served for many years in that capacity. By the late 1960's, it became a Heavy Rescue serving at all sorts of accidents, floods, tornadoes, and other disasters both natural and man-made. In 1982, Rescue 800, a Hazardous Materials Unit, replaced it. In 1971 the city decided that the 1954 Seagrave had reached the end of its span as a front line engine and a 1971, Seagrave 1000 gallon per minute pumper was purchased, with Hose Company No. 6 providing $7500.00 to furnish it with a 55 foot articulating boom Squirt. Currently, Hose Company No. 6 houses a 1997 Seagrave pumper and a 2011 Custom Chevrolet 2500 utility vehicle.
Apparatus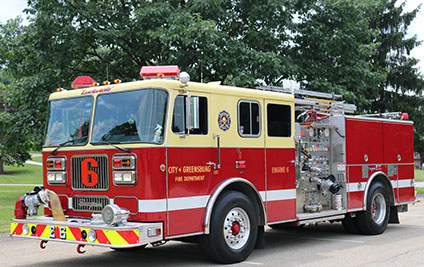 Engine 6
1997 Seagrave – S.O. 78932, Model TB40DH, full tilt, Stainless Steel cab, Detroit 8V92TA diesel engine, Allison HT740 automatic transmission, Waterous 1,250 GPM, 2-stage fire pump, 5" swivel front suction, 500 gallon booster tank, pre-piped TFT Cross-Fire deck gun, 7500 watt Onan diesel auxiliary generator, Rudd automatic tire chains.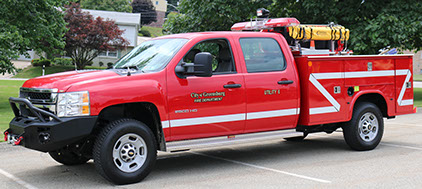 Utility 6
2011 Chevrolet 4 door chassis, seating capacity for 5, with a Knapheide work body. This vehicle is used as a support vehicle to transport personnel and equipment. This vehicle carries, hand tools, ems equipment, and an AED. Utility 6 also tows any of the Departments specialty trailers.
For ALL Emergencies Please Dial 911