GVFD Museum
Company 4

416 South Main Street (Behind City Hall)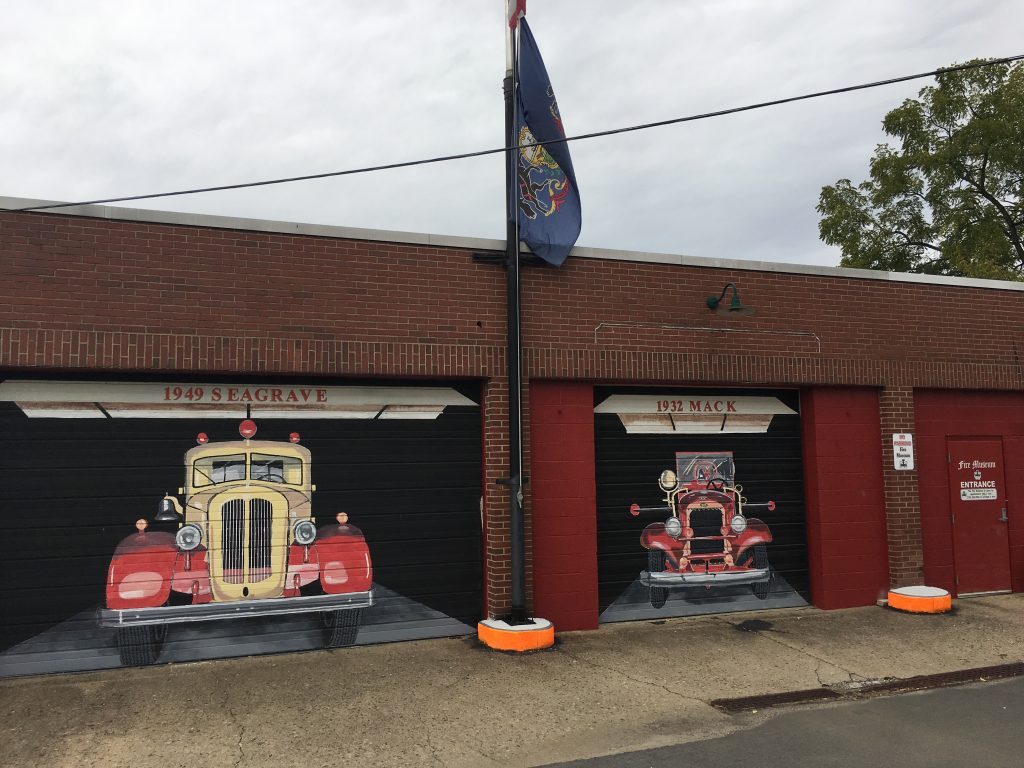 The Greensburg Fire Department Museum was a dream of Greensburg Firefighters dating back to the late 1950's.The founding members' names are memorialized at the museum as a tribute to their contributions and their hard work. Our inventory of articles expanded and our need for more space grew. We are now in our third location and with the support of the community and the Greensburg Volunteer Fire Department we will preserve our history for future generations.
The centerpieces of our collection are the Pat Lyon Hand Pumper and the Goodwill Hand Pumper both dating back to the early 1800's. Their restoration to original condition was a giant leap in the growth and interest in Greensburg's fire history and you can't help but marvel at their beauty. The Pat Lyon was built in 1805 in Philadelphia and after a difficult journey over the Allegheny Mountains it was commissioned into service in Pittsburgh as their first fire engine. Following the end of their service life they were quartered outside of Hose Co. 3 (Pat Lyon) and Hose Co. 6 (Goodwill). Over the years they both deteriorated until restored in the late 1990's.
Two other operating vehicles are in the collection, a 1949 Seagrave Pumper. The '49' was commissioned for Hose Co # 3 by Captain John Edward 'Hutch' Hutchinson who later became Greensburg's Fire Chief for over 63 years. The Seagrave was reacquired from Westmoreland County Community College and took 30 years to restore. Today it is driven in parades, ceremonial events and public service duties. A fully restored 1932 Mack Pumper that saw service in neighboring Southwest Greensburg is also on display.
Our latest addition is the Charles Horan Model Fire Vehicle Room. A member of the North Belle Vernon Fire Company and life member of Washington Township Fire Company, along with his wife Michele donated their over 1000 pieces of collectible fire service related toys and numerous other articles he proudly owned to our fire museum. This bequeath has allowed the museum to expand our base of interest to include young and old and everyone in between.
You will not want to overlook our displays of past firefighter protective gear, fire extinguishers thru time, and communication equipment along with a wide array of Greensburg Dive Team memorabilia including the 'Drop Camera' used by the Greensburg Volunteer Fire Department in the Que Creek Mine Rescue in 2002, Greensburg Marching Band artifacts along with a collection of newspaper articles relating to some historic fires in Greensburg and so much more.
Admission is Free. The museum with our dedicated staff of volunteers welcomes you to visit us at 416 South Main St. We are "Open to the Public"on the 2nd Tuesday from 6 till 8 pm and the 4th Saturday from 9 am till Noon of every month of the year. Appointments can be made to schedule a group or personal tour at 724-832-7904.
Museum Photos
For ALL Emergencies Please Dial 911