Greensburg Volunteer Fire Department

Bloodhound Team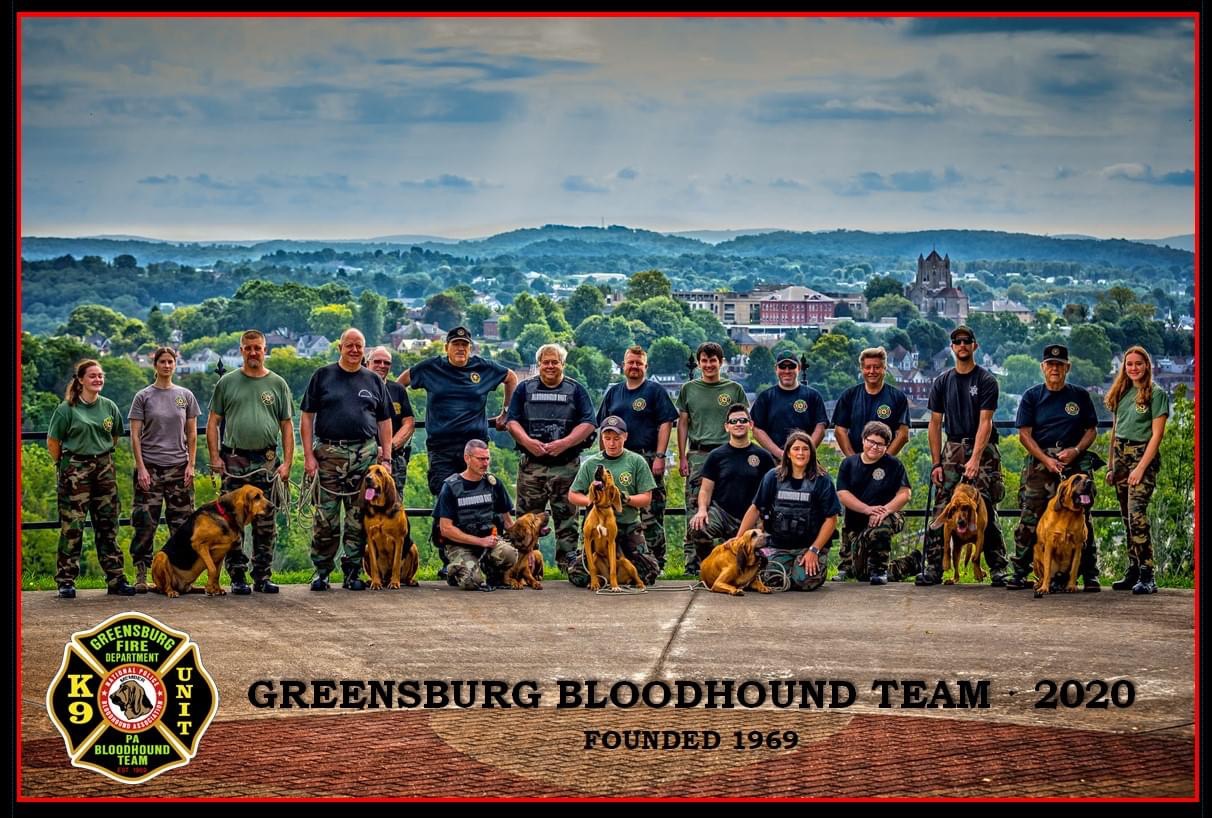 Captain: Lou Battistella
Lieutenants: Bud Mertz, Dave Klingler, & Rob Cameron
Handlers: Elysia Battistella, David Jackson, Dave Burnfield, Greg Saunders Sr, Greg Saunders Jr., & Brett Steele
Dogs: Sophy, Delphie, Darcy, Lucy, Sadie, Sassy, Rocky & Pita
Greensburg Volunteer Fire Department Bloodhound Team started out in 1969 as twelve volunteer firemen and two dogs and has grown to over 15 volunteer firemen with seven active bloodhounds. The team maintains its efficiency by belonging to the National Police Bloodhound Association, a national organization that was started by the Connecticut and New York State Police 54 years ago (1962) with just a few members that has now grown to over two hundred members from all over the country. The Greensburg Volunteer Fire Department Bloodhound Team membership in the NPBA is highly regarded as the only membership in the organization that is not a 100% law enforcement agency.
Annually the team trains intensely with the NPBA for a whole week. Two of the team's senior handlers serve prestigiously as instructors. Through the many years of existence and the affiliation with the NPBA, the Greensburg Volunteer Fire Department Bloodhound Team has succeeded in becoming experts in man-trailing. Beside the occasional criminal who got away, or the holdup subject, moreover; the search assists have been dedicated to the missing person of institutions, nursing homes, senior care living facilities, Alzheimer patients, and, of course, children.
Handlers are selected by C4 Lou and are comprised of individuals who have sincerely demonstrated their interest and devotion to the department and the team. All handlers must establish a relationship with their dogs and be able to read the trailing messages that all Bloodhounds individually exhibit while trailing the scent trail of the subject. All of the handlers make the commitment to spend a huge amount of time with their hounds, both while training and off duty. Handlers are responsible for the training, health and well-being of their own individual hounds which they keep at home. All handlers are encouraged to participate in all training programs made available by and through the National Police Bloodhound Association. Over the years, in addition to the seven dogs serving today, 21 dogs have served prestigiously and are now at rest.
Visit the team's Facebook page – Greensburg Bloodhound Team
If you have questions about the Greensburg Bloodhound Team you can contact Lou Battistella on our Contact Us page.
For ALL Emergencies Please Dial 911